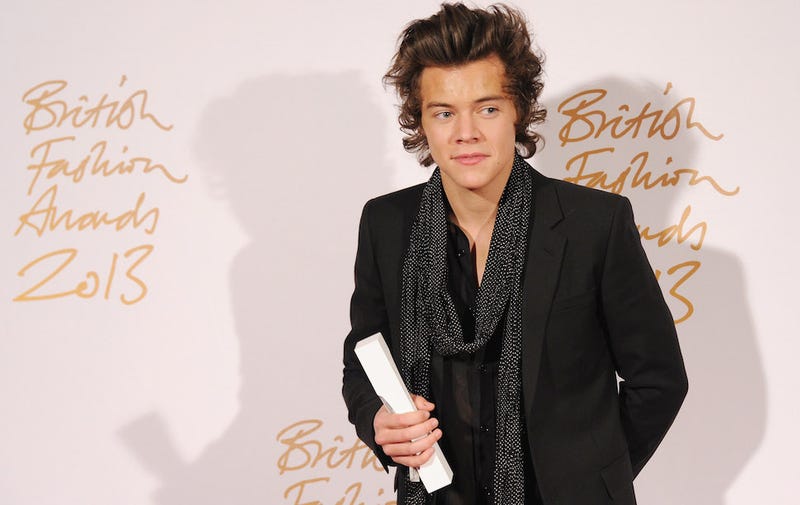 Harry Styles, little bescarfed hair boy of your dreams, joke proposed to a fan dressed as a bride (not you) on stage at a performance in Philadelphia earlier this week. I'm so sorry!
Listen, before you read on, do you want to maybe go home and lie down? Ask your boss if you can leave early for the day. (If she asks why, just let her know that your life is fucking ruined and you need a little time.) From the Mirror:
The teen pin-up popped the question to the lucky lady who was dressed as a bride at the band's gig in Philadelphia after he picked her out of the sell-out crowd and joked he didn't want her efforts to go to waste.
The Mirror reports that Harry asked the audience, "I heard there was a girl here in a wedding dress...Is there a girl here in a wedding dress? Now I feel bad letting this go to waste, so, what's your name?" Oh my god. Why are you still reading?! Please don't watch the vine of what happened next, embedded in your enemy's tweet:
Haha, uh. First of all, congratulations, of course, to Priya on completing all of her life goals. Second: Priya, who was threatening to kill you and spill soda on your dress?! Girl, you do not have to forgive those monsters. You go ahead and wear that wedding dress all around Philadelphia, if you want. Marry Rocky!
Anyway. Sorry about the Priya stuff. Maybe next time he'll propose to you for real? Life can take you in so many different Direction(s).
[image via Getty]