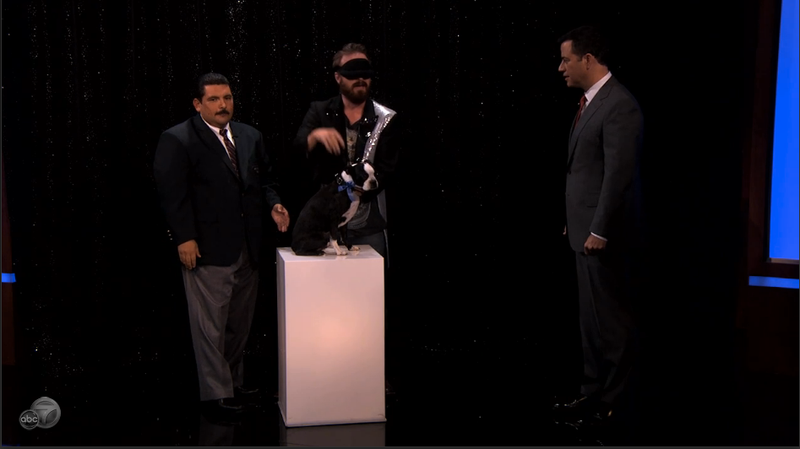 Famke Janssen is being haunted by the scariest ghost of all: herself; Aaron Paul finds new ways to yell 'Bitch'; Jeff Bridges breaks his silence and comes out with the greatest truth of all—that R.I.P.D. was maybe, kind of, sort of not the best?
Famke Janssen recently had NYPD up in arms when she reported that her home was broken into and the burglar left behind a creepy old book. After one month and eight days of tough police work, detectives finally thought to open said book, found Janssen's to-do lists inside, and concluded that it was indeed hers. [NY Post]
In a clever ruse to keep yelling 'bitch' in as many places as possible, Aaron Paul went on Kimmel last night to share his secret talent: picking out a dog's sex by just petting it. And the countdown to Kimmel revealing this was fake too? 3...2... [Hulu]
Adam Pally will be joining the cast of The Mindy Project as a series regular since his yet-unaired arc went extremely well. Yes he will be playing an OB/GYN. No, he will not be performing pap smears out of the back of a limo, though really, that would be super convenes and very Mindy chic, so maybe he can get on that? [TVLine]
Jeff Bridges admits that R.I.P.D. was not good, caveating that "The studio made some choices I wouldn't have made." Unless your missed choice was not doing the movie in the first place, you're just as culpable Jeff. [GQ]
Breakdowns is a daily roundup of all the news that wasn't interesting enough to deserve two paragraphs.