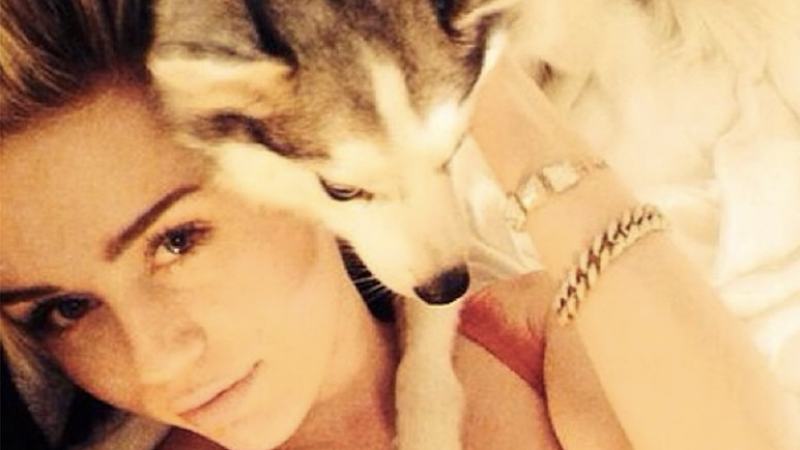 On Sunday, Miley Cyrus announced that she was sending her newest dog, Moonie, to live with another family. This happened less than two weeks after she got Moonie, who was adopted shortly after the mysterious death of her dog Floyd.
Let's investigate everything we know about Miley Cyrus and her dogs.
How many dogs does Miley have?
If you count all the dogs she had in the first week of April, six:
Floyd, husky, now deceased.
Moonie, Yorkie mix, recently rehomed.
Bean, chihuahua mix.
Penny Lane, tiny mix.
Mary Jane, black-and-white mix.
Happy, Rottweiler-beagle mix.
So what happened with Floyd?
Miley's dog Floyd died suddenly earlier this month under (at least to her fans) completely mysterious circumstances. She got the Alaskan Klee Kai in 2011, and he was evidently Miley's favorite of her dog army. "I know I don't mean it but I wish he would've taken me with him this is unbearable," she tweeted on April 1 without explaining how or why Floyd died. "What am I gonna do without him?"
That's so sad. How did Miley handle his death?
According to her Twitter account, she struggled with his absence.
How did Floyd's death impact Miley's touring?
A few days after Floyd's death, she paid tribute to him during a concert at Brooklyn's Barclays Center: she sang a song in his memory—while wearing a bikini and furry chaps—to huge inflatable husky that looks like Floyd:
The distraught Cyrus also canceled her Charlotte, N.C. last week just 30 minutes before she was set to perform, citing "a virus" as the reason.
Poor Miley. Has she thought about distancing herself from dogs for awhile? Maybe that would help.
Well, that would be difficult because in the worst idea ever, her mom Tish tried to cheer her up two days after Floyd passed by giving her a new puppy named Moonie.
Did Moonie fix everything?
Shockingly, no. One inflatable dog serenade and ten days later, Miley announced this Sunday that she was shipping off tiny, new not-Floyd to a family friend. Don't feel too bad for Moonie, though. If this picture is any indication, Moonie seemed to enjoy the idea of travel.
Why would someone who loves dogs and who has so many ship off poor Moonie so soon?
This is where the situation gets even bleaker. According to Miley:
"After what happened?" With Floyd or...have there been others? This can't be good.
Yeah, so. It seems Miley's specific concern about Moonie's size probably has nothing to do with Floyd's death. No, "what happened" probably refers to another doggie incident in Miley's past. Back in 2012, her Yorkie mix, Lila, died when she was just over two years old. And that time it wasn't mere mysterious circumstances: Lila was killed after another of Miley's dogs, Ziggy, "grabbed her in just the wrong spot," according to Miley's mom.
What happened to Ziggy, Miley's dog who eats other dogs?
Ziggy was subsequently adopted by another family. And don't worry. There are no other dogs in Ziggy's new home.
Wow. Sounds like Miley doesn't have the best luck with dogs.
Well, she does ride a giant flying hot dog as part of her concert.
And sometimes she dresses like a hot dog?
But no, she has terrible luck when it comes to non-hot dogs.
What will Miley do without Floyd or Moonie?
It seems that Miley, along with her new favorite dog Mary Jane, is doing better now that she has a stuffed Floyd to carry around.
And we still don't know what happened to poor Floyd?
No. While it's rumored he was attacked by a coyote, we don't know exactly what happened. And perhaps we never will.
[Image via Miley Cyrus/Instagram]