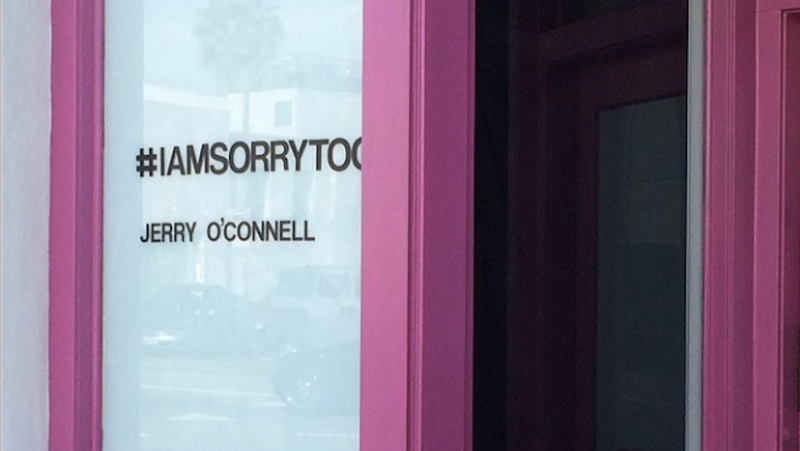 For fuck's sake, make it all stop. Plagiarizing monster, heartbreaking loon, and dabbling artist Shia LaBeouf now has competition. Actor Jerry O'Connell has apparently started his own art exhibit, #IAMSORRYTOO, next to LaBeouf's #IAMSORRY.
According to LaBeouf's neighbors and frequent visitors at Buzzfeed, O'Connell is currently in situ at 7358 Beverly at the Artspace Warehouse, the gallery next door to the Cohen Gallery where #IAMSORRY is taking place.
The experience at O'Connell's show largely mirrors LaBeouf's. Buzzfeed writer Louis Peitzman describes a similar gallery set up, including a table filled with objects, such as a Blu-ray copy of Stand by Me. However, unlike LaBeouf, O'Connell is not silent when you sit down with him in the room. He wears a paper bag on his head that reads "SUPER FAMOUS" and apparently apologizes "for all the world's ills."
Peitzman tells of his encounter with O'Connell:
I asked for a photo, which he approved. And then disapproved. And then approved again. I snapped a few while he was approving.
O'Connell also told Peitzman it was hot under the bag and he could smell his own breath.
Funny or Die is believed to be behind the O'Connell spoof. They announced the exhibit's opening Wednesday afternoon, but said it would only be for one day only.
LaBeouf will be in his gallery until Sunday.
And no, I'm not going to go see O'Connell. No way.
[Image via germainlussier/Instagram]